Technology Consulting for Startups: For Operational Efficiency and Growth
In today's world, it's almost a sin to try and operate a business without using technology. Let us learn what this means and how tech consulting can help startups convert their business ideas into operating models.
11 minutes
#development #product strategy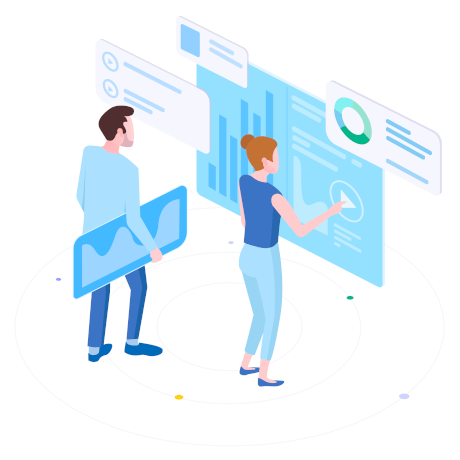 Table of contents
by Pavel Gorbachenko
Co-Founder, CEO
11 minutes
In today's world, it's almost a sin to try and operate a business without using technology. For any business (tech or non-tech), technology plays a key role in its everyday operations as well as growth. This rightly suggests the growing trend of businesses adopting technology where it is estimated that IT services will surpass $476 billion by the end of 2021. As technology continues to change and get more sophisticated, tech consulting for businesses is steadily getting mainstream. Tech consulting helps organizations become more productive and efficient, thereby increasing productivity, efficient collaboration, and improved bottomline. Let us learn what this means and how tech consulting can help startups convert their business ideas into operating models.
What is Technology Consulting?
Technology consulting is a service offered by outsourced IT experts who bring in a wide range of expertise and solutions to solve IT and operational problems. These experts enable businesses and organizations to transform the way they use technology by collectively offering technical solutions, frameworks, assessments, best practices as well as fallback mechanisms. Until a few years ago, tech consulting was aimed towards optimizing technical opportunities, reducing costs, etc. However, it has now evolved to cover much more, ranging from initial phases of Digital Transformation, to advanced services including Cloud Migration, AI, Cybersecurity, Data Science, SaaS Enablement, etc. To foster holistic growth, consultancy services have now become increasingly focused to work on every component of a business's operation by treating it as a separate entity. Here is how!
Why Does a Startup Need Technology Consulting?
Technology consulting for startups is a critical enabler to achieve operational efficiency while they compete with other established rivals. With the right technical advisory, startups leverage the wealth of expertise that's key to solving bottlenecks in core business processes. Though consulting requirements for domains and use-cases may differ, here are some key benefits that startups achieve by outsourcing technical consulting:
Enhanced Operation Efficiency
As technology sits at the core of all business processes and organizational level collaboration,  implementing it diligently is always the first step in the right direction. Efficient operational models such as DevOps and its underlying tools set by IT consultants essentially automate entire life cycles of critical business processes and technical workflows. This ensures an end-to-end technology-enabled environment that is lean, efficient, and resilient. More so, with the right consulting, a startup can leverage technology to enable efficient collaboration among teams. This not only helps lean startups but also large entities with distributed teams to use innovative tools as a single pane of glass for management oversight and business analysis.
Business Continuity
Business continuity is the ability to have all critical operations functioning optimally even in the event of a crisis or disaster. As per an industry trend, IT Security, Policy Governance, and Disaster Recovery are few critical areas that are often overlooked as factors that can destroy successful businesses. To avoid lapses, it is imperative for startups to plan on maintaining essential processes even following a disaster. Tech consultants enact business continuity plans that layout ultimate strategies and architecture frameworks to ensure optimal functionality even in the event of a disaster. Such plans include a combination of the following:
Approaches - including DevSecOps, Security as Code, Policy as Code, etc.
Tools - including both hardware and software such as Access Tokens, Firewalls, Persistent Volumes, etc.
Fallback Mechanisms - Load Balancing, Network Switchover, etc.
Data Security
In a closely connected world, Data Security stands out as one of the biggest problems for today's businesses. Malicious attacks have the potential to make billion-dollar enterprises go bankrupt overnight. Another complexity with this aspect comes to play with the introduction of regulatory compliances like HIPAA, PCI-DSS, GDPR, etc., which require compliance by regulatory bodies to avoid misuse of public data. For startups and large entities alike, this is often one of the most complex challenges that keep changing frequently. To help with this, technical consultants advise businesses on the best security and policy enforcement approaches that safeguard classified data. An essential part of such consultants is also to identify vulnerabilities within a system that may lead to security attacks. A key point to note here is that securing an entire technology stack takes more than installing certain software or provisioning a firewall. Rather, it requires a change in mindset and adoption of the right approach that keeps security at the core of all workflows. As a result, such tasks are best to be handled by seasoned experts rather than pooling in-house administrators.
Cost Savings
Onboarding permanent IT personnel for adhoc short-term projects is usually an expensive affair. Not only is the entire process time-consuming, but finding the right skilled staff is often a big hassle. Especially for startups that are yet to gain traction and expand, hiring permanent staff is a decision that should be taken with a pinch of salt, considering the impact it might leave on its finances. Contrary to this, technical consultants offer similar services at a fraction of the cost. With such a working model, organizations don't need to commit to long-term employment contracts, training, or material cost such as lab equipment. As onboarded third-party consultants already have the requisite skills of their related domain, an organization saves time and only pays for the services it requires.
Scaling IT Infrastructure
With the advancement in technologies, it is important for startups to leverage emerging tech to maintain operational efficiency as compared to their competitors. As a result, scaling IT infrastructure and supported processes remain a never-ending project. However, transitioning from a specific IT framework to another often requires niche specialized skills, that become deeply complicated when there are multiple stakeholders and service providers. IT consultants with their wide range of skills fit perfectly in such scenarios by acting as an adhoc team of experts who work through the entire upgrade. Whether it is migrating from an on-prem to cloud, adopting a new architecture for enhanced efficiency, or scaling workloads - the importance of thorough analysis and diligent planning cannot be ignored.
Technology Consultants - Commonly Offered Services
Over the years, the scope of IT consultation has changed significantly, where most providers today offer an array of managed IT services. Here are some of the services that an IT consultant usually deliver:
Risk Assessment Analysis
Tech consultants offer risk assessment analysis to help businesses stay ahead in terms of cybersecurity or policy governance.
Such tasks include :
static code analysis
integration & vulnerability testing
identify ingress/egress entry points
maintain data integrity and sanity
as well as remediation towards each of the identified vulnerabilities
Leveraging intelligence and security expertise sets a seamless security framework for an organization's continuous success. Additionally, for businesses (such as Fintech or Healthcare) that involve significant compliance requirements, consultants perform critical assessments to provide necessary guidance on maintaining a governance model that meets regulatory requirements.
Adopting Emerging Tech
Ideally, businesses need to map out their current and future state of IT while still at a nascent or startup level. To help with this, tech consultants provide companies with reliable plans that consider both legacy as well as emerging technologies to achieve a robust framework based on the organization's objectives. Specifically for instances like ERP implementation, transitioning from a managed service provider to another, or embracing a new technology stack, tech consultants help to lay out the blueprint that paves the way for a seamless transition without impacting business-critical workflows.
Disaster Recovery
IT consultants play a crucial role in disaster recovery that ensures a business does not suffer from unavailability in the event of natural or man-made failures. Such frameworks proactively help curb business disruptions before they can impact service delivery. A critical aspect of doing so is not only to frame processes and policies to avoid disruptions but also to create a recovery plan that forms the foundation for business resilience.
Cloud Services
An organization looking to migrate its servers, networks, or workloads to the cloud often finds the entire process a lot complex in the absence of the right skills and advice. To help with this, tech consultants make the process seamless by creating a migration framework that incorporates all IT-enabled processes considering both existing and future states. While doing so, it remains imperative to not only choose the right tools and processes but also to identify the right cloud model (Public, Private, or Hybrid) and service providers (AWS, MS Azure, GCP, etc.). The list of services covered is some of the basic yet complex services that are most sought after in the startup industry. A comprehensive list may include services focused on business segments (Healthcare, Manufacturing, Retail, etc.),  platforms (Infrastructure, Workplace & Mobility, Development, etc.).
Onboarding the Best Tech Consultants to Transform Your IT
Outsourcing a startup's IT to highly experienced tech consultants is one of the essential steps that defines its scalability, resilience, and bottomline. As essential enablers, technology consultants provide the right guidance to convert a startup's idea and assumptions into an operating model. At Enkonix, we take pride in offering formidable technical consulting to businesses, whether they are starting up or established multinationals. By providing a comprehensive consultancy across multiple technology segments, we help organizations achieve a strong foundation to commercialize their business ideas. Tell us about your project now and we'll provide free consultancy with detailed estimation. 
by Pavel Gorbachenko
Co-Founder, CEO