Wyldata: Action Sports trusted source of relevant and accurate data
Wyldata is a company that provides relevant, accurate, data-based information on Action Sports like skateboarding, surfing, snowboarding, etc.
Being a pioneer in encompassing this particular topic, it needed a wide range of online tools to search, process, and sort relevant and precise information.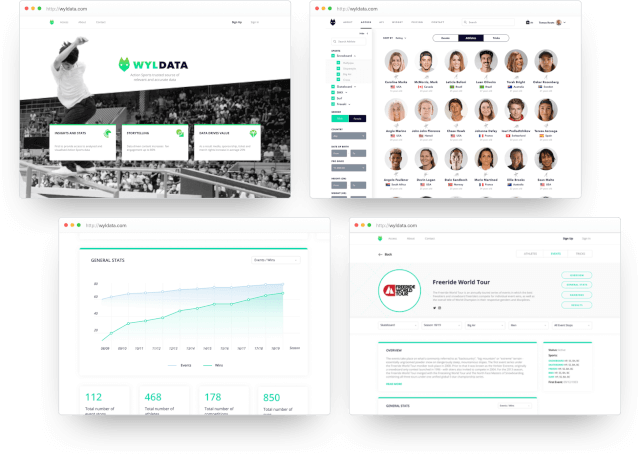 Technologies
Vue.js, Python, Django, PostgreSQL
Project duration
12 months
Project challenges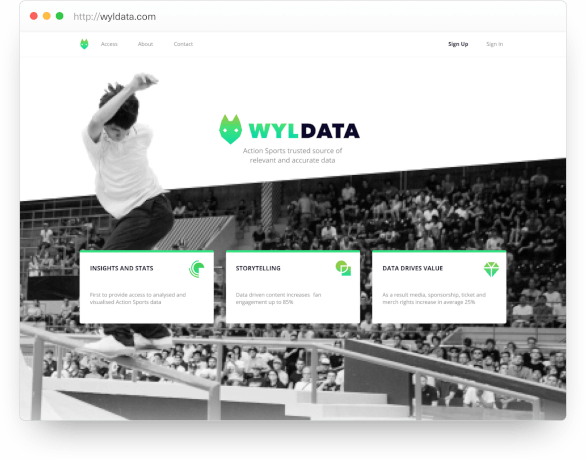 Enkonix needed to create a website that would be comprehensive and able to accumulate a lot of data. Yet easy to navigate through for all the users.

We had to create a service that collects and standardizes raw data on all Action Sports into one coherent system. At the same time, we had to make sure that these sources are verified and fact-driven.

We had to create a complex database structure to store different types of data from different types of sports.

We were receiving piles of information in absolutely different formats. Our team had to process it, match with our information, transfer into the database, thus creating a unified and clear structure.

Since Wyldata's main purpose was to cooperate with sports federations and provide them with data, we needed to find the best way of integrating our solution into their systems.
Solutions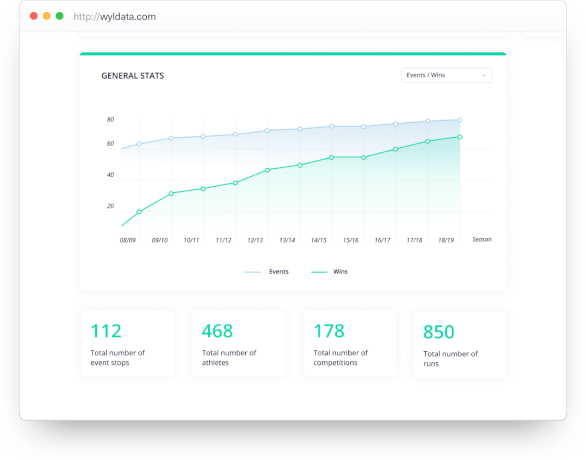 We created a solution that analyses leveraged data into a quality product for brands, media, fans, and federations.

Our design includes tables, charts with different data and statistics which allows information visualizing: see historical data and trends for each athlete or event. For better navigation, we included search and filters.

We used Iframes, which are easy to integrate and embed inside another HTML document.

We implemented an algorithm that calculates and updates rankings based on fresh results automatically.

We developed an API interface that facilitates import/export data into/out of the system.

Accumulation of data demands resources for its storage. To resolve this issue we integrated Auto Scaling cloud solution, which allows clients to pay only for those resources that they use.
Results
API solution made the process of uploading data quicker and easier both for Wyldata and representatives of sports organizations that use its service. Clients are able to integrate and have access to information that they use in their projects (statistics, analytics, predictions).
This also helped to unify incoming data and make Wyldata a single source of verified authorized information.
We created the website with a logical and user-friendly structure suitable for business clients, sportsmen, fans. Our navigation is divided strictly into categories: athletes, events, tricks. You may choose athletes by status, country, gender, season, discipline, type of sport. This ensures the expansion and growth of visitors, thus higher profit.
Due to our search tools, we are providing info on each sportsman, including general statistics, rankings, results.
Thanks to the developments of Enkonix, Wyldata provides API, widgets, customized solutions within the terms of collaborative deals with official federations like WORLD SKATE, WSL, FIS, UCI.
Due to functional database architecture and server structure, we are able to upload and process a large amount of information in a split second. This solves the issue with a lack of consistent, coherent, up-to-date information.
Do you have a business plan or idea?
Let us know!